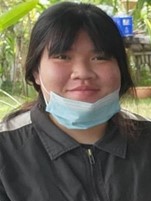 Talent en ambitie: Veiligheidsdeskundige worden!

Geboortejaar: 2003

Ondersteuning: 2893 euro.

Voor: Studie Occupational Health and Safety aan Chiang Mai Rajabhat University . .

Periode: 2022-2026

Status: Recent gestart.


Financiering
Legaat Taube-fonds.
Uit de aanvraag (Juli 2022):
Yui was born in Doi Saket and still lives there with her father (57), mother (56) and brother (22). Her father is a gardener, but is unemployed since Covid 19. Her mother gives massage, and is also unemployed since Covid 19. Her brother works and follows evening study Secondary School.
Ambitie/droom:
"Her introduction: "I chose to study Occupational Health and Safety out of my interest and passion for health sciences. Once I become a professional safety officer I will chose to work as a safety scholar in a hospital, which would maintain the safety of equipment, the environment, as well as the safety of people both physically and mentally. Which I like in this way and want to learn until I can apply the knowledge gained in my work to take care of people around me.